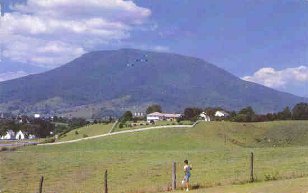 Angels Rest, Giles County (3600 ft. above Pearisburg, Va.)
Index of Photos:
John Stafford/Margaret Brunt Family
People:
Trip Photographs:
Charles and Carole Felten's Trip to England, June 2000

Symbols:
A Stafford Coat of Arms (1)
A Stafford Coat of Arms (2) provided by Trevor Stafford
Blazon of Arms (Description of Arms)
STAFFORD
ARMS: Sable three ragged staffs argent (Three silver ragged staffs on black)
Crest: A lion rampant or, holding a ragged staff sable (An aggressive gold
lion, holding a ragged black staff)
MOTTO: Stat Nominus Umbra (Stands the Shadow of a Name)

Places:
Picture of the Trigg School abt. 1897
View of Main Steet Pearisburg, Giles County, Virginia (abt. 1917)
- Published by J. P. Bell Co., Inc., Lynchburg, Va.
Ports:
Ellis Island, New York: a plaque listing the Stafford's who entered the port.

Collins/Fleming Photos:
The Church of God Sunday School Picture. (I need help identifying the people in this picture. If you recognize someone, please eMail me with the person's name and location in the picture.)
[Home] [Photo Index]